By Marta Dvuliat
February 24 was a day that significantly changed the lives of all Ukrainians in Ukraine and abroad. It marks the day that Russian President Vladimir Putin declared a "special military operation" in Ukraine, resulting in Russia's invasion of Ukraine and the displacement of millions of Ukrainians from their homes. Now, it's been more than four months of war and four months of praying for Ukraine. 
I am Marta, a Ukrainian student attending the beautiful Ivan Franko National University of Lviv. After I came to Canada in March 2022, it was unbearable to realize that I am so far from home where a lot of people are suffering and dying and I don't know when I will come back.
This is my fifth time visiting Canada but my first long-term stay. I was getting used to life here, however, not a day passed without thinking about Ukraine — I was constantly checking the news. Even when I was physically taking the bus here in Canada, my mind was and continues to be in Ukraine.
Back in Ukraine, we were trying to continue our university classes but it was really hard to concentrate on studying. Nevertheless, I am thankful to my university and especially the Faculty of International Relations for giving me knowledge and self-awareness. Without my work with a professor at a home institution, I wouldn't become MITACS participant.
In September 2021, I applied for the MITACS Globalink Research Internship and was selected among a huge amount of applicants but the program turned out to start during the war. I was very lucky to be selected as there are few places for Ukrainians in this program. My program started in May but I arrived in Canada in March as I had a place to stay in Toronto.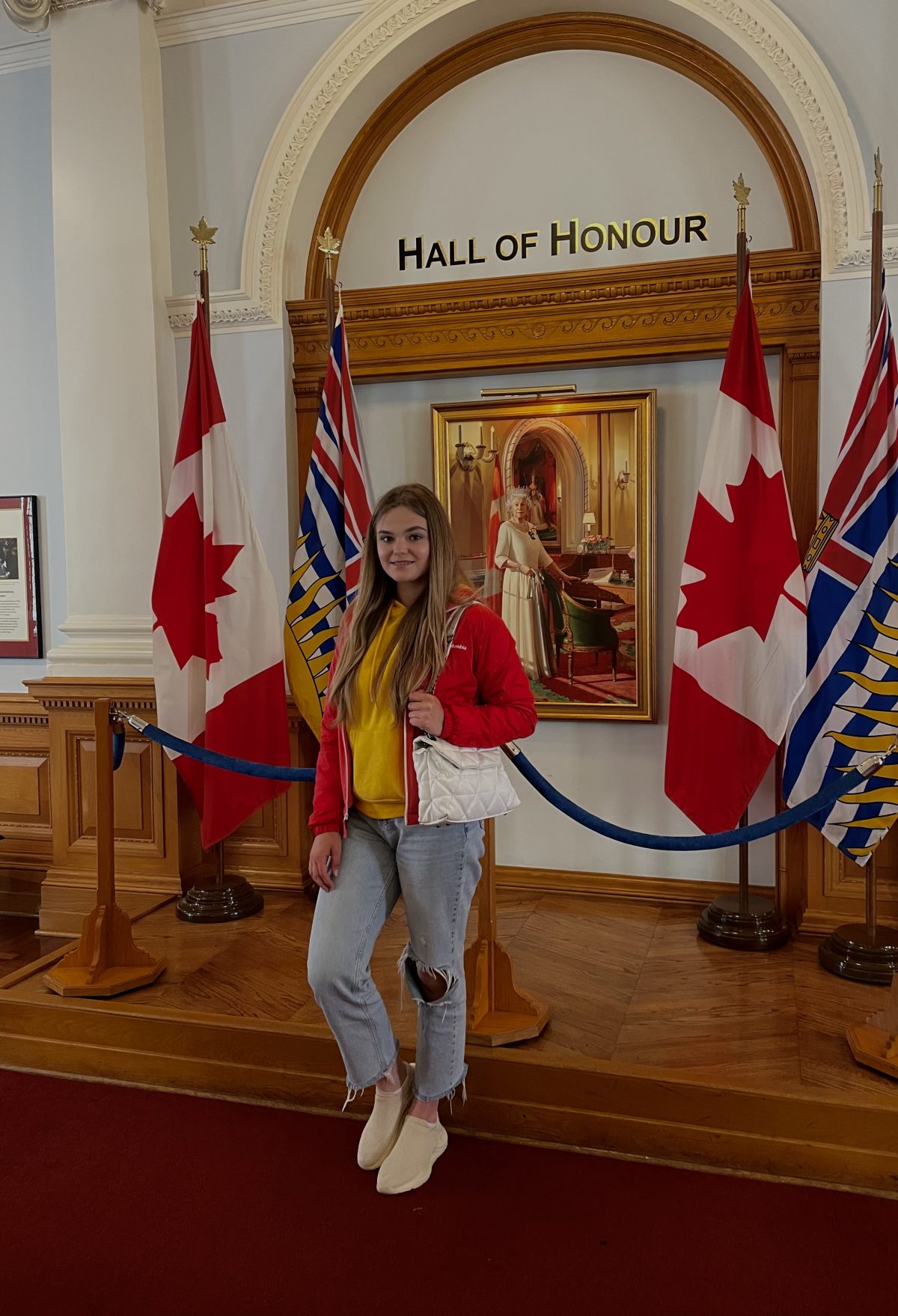 I'm currently attending the University of Victoria as part of the MITACS program. During my internship here, I am working with professor Penny Bryden from the department of history and I must say that she is a wonderful person and a scientist. As a historian, she knows a lot about the war in Ukraine and I really appreciate her support, especially during this difficult time. 
My project is about Pierre Trudeau as the former Prime Minister of Canada, particularly about his peace mission in 1984. I am analyzing what decisions the Prime Minister took to ease the tension between East and West during the Cold War and reduce the risk of using nuclear weapons. I feel that I have become even more interested in Canadian history and federal-provincial relations.
Unfortunately, it was (and still is) a problem for me to enjoy what I'm doing because of the ongoing war in my home, Ukraine.
An important thing is that Canada's support and help for Ukraine is huge and I really appreciate it; the support from both the government and the people. I took part in several rallies but their number was much bigger.  
My mission here is to tell the truth about war in Ukraine because all world must know that Russia is committing genocide against Ukrainians. Some foreigners are aware of the real situation in Ukraine but many people here keep asking me "How things are going on in Ukraine? Is it better now?" I keep answering, "No, Russia is a terrorist state and Russians kill Ukrainians every day and destroy whole cities including schools, shopping centres, hospitals, and residential buildings."
That is the truth which we, Ukrainians abroad, must promote.