By Sophia Holowaty
It takes a time like the one that we are in to finally get to sorting through the food pantry and seeing what's really in there! Having to abide by the regulations of quarantine makes it difficult to gallivant around grocery stores and take our time while doing our shopping. Recipes which use pantry staples, such as beans, tomato sauce, oatmeal, mixed nuts, and pasta, among others, are the perfect alternative to products that may not be as readily available or accessible in grocery stores (the flour and yeast shortage sure didn't make baking any easier)! The way I approach cooking for myself and my family had to drastically change to accommodate my new limitations, and the pace of this change made it not only difficult, but extremely overwhelming. Juggling eating well, adjusting to a new routine, and new habits all while being confined to one space felt constricting, and I definitely needed all the help I could get. Along came an extremely resourceful food blog online,
Gimme Some Oven
,
to help me in my transition, and I thought to share a few of their recipes along with some tips and modifications I made when trying them. This food blog was started 11 years ago by a woman named Ali, who is passionate about cooking and has travelled to various nations to experience ethnic cuisines. Below is a one-day meal plan that uses pantry staple recipes that could inspire you to make use of the foods that you might forget are at the back of your pantry.
The most important meal of the day! What I love about this recipe is that the dry oatmeal mix can be kept stored for up to 3 months and this makes an easy and quick breakfast. A few dry mix combinations that I have made include dark chocolate and coconut, cranberry and walnut, and date and coconut. In addition to these dry mixes, I like to add some fresh or frozen fruit, depending on what we have in the fridge!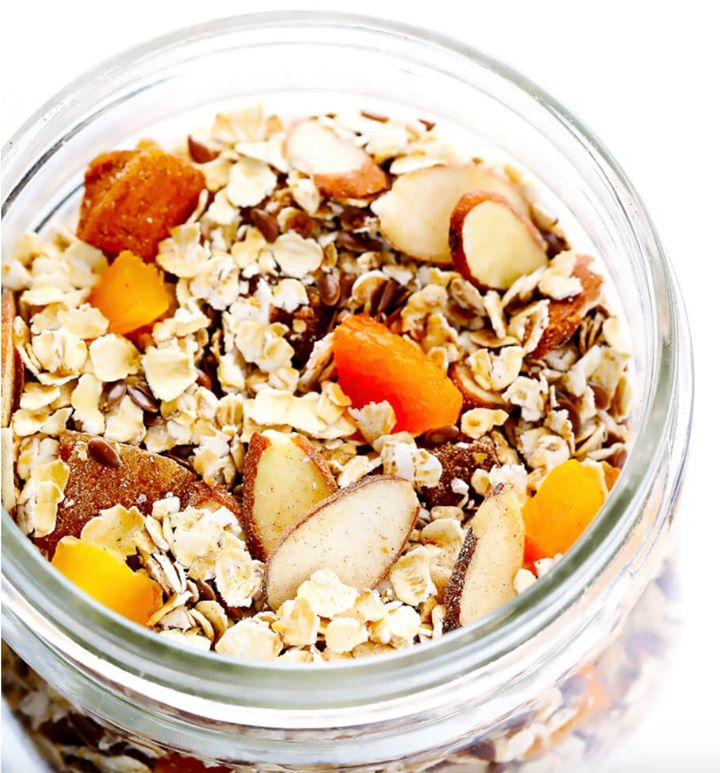 I'm sure many of you feel the same way that I do – lunch is definitely the meal I look forward to the most in my day. I chose this recipe because it is really efficient on time and tastes delicious. You can buy a lot of ingredients in bulk and freeze them, which is actually what I do with brussels sprouts. I normally blanch my frozen brussels sprouts and throw them in the oven on broil for a minute or two so that they get some charred colour and flavour. If you would like to add some protein to the salad, I would recommend adding chicken breast, which is also very easy to keep frozen!
At least in my family, dinner is the one meal of the day that we can eat together because of different work and school schedules. Utilizing a slow cooker adds an extra level of ease, since you can set it in the morning, and come back to a prepared meal at dinnertime – no hassle! Although this recipe is vegetarian, ground beef could be added if you desire though I would recommend cooking the meat separately before adding it to the slow cooker.
Gimme Some Oven has many more awesome pantry staple recipes. I chose my three favourite recipes, although I have enjoyed most, if not all of the ones that I have made. A natural part of cooking is failure, and it is important to remember that failure may be more common than usual for you when cooking has to be balanced with work, school, or taking care of family, not to mention the pandemic! The recipes I chose were simple but can be easily changed or experimented with to create new flavours that best accommodate you! I hope that this post provides you with some inspiration for cooking, all while also cleaning out that food pantry!! These are unprecedented times, and meals should be made easy and without much thought. Смачного and Bon Appétit!